Z-Line Sloping Shelf Units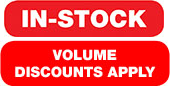 FOB - Midwest Warehouse

Model Numbers in Red are IN STOCK and feature Quick Ship!
Stocked Color: Medium Grey

Starter Units:
Add-On Units:
Available Colors: Sand, Medium Grey, and Light Grey.
If you need a large quantity of this product, call us at 1-800-338-1382 for additional bulk discounts!