Z-Line Low Profile Shelving - No Decking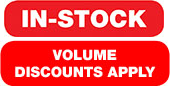 FOB Midwest Warehouse

Model numbers in Red are IN STOCK and feature QuickShip!
QuickShip Colors: Medium Grey and Sand

Tennsco Z-Line Shelving is value without compromising performance. Its versatile array of components means it fits all your storage needs. Combine an interlocking keyhole design for fast, boltless installation without clips, gussets or sway bars and you have a shelving system designed for your specific needs.

Z-Line Low Profile Shelving maximizes shelf openings in light to medium duty support applications.

Starter Units use:
Four EUR uprights
Six DRS end supports

Adder Units use:
Two ZTP uprights
Three DRS end supporters

Available Colors: Light Grey, Medium Grey, and Sand

Note: Assembly is required

Additional Note: Total unit capacity, using four uprights, not to exceed 8,000 lbs., based on 24" centers or less
If you need a large quantity of this product, call us at 1-800-338-1382 for additional bulk discounts!