Regal Shelving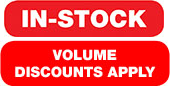 FOB: Midwest Warehouse

Model numbers in red feature QuickShip!
QuickShip Color: Sand

Regal Shelving components snap together with steel shoulder rivets for added rigidity. This added strength makes Regal Shelving sturdy enough for any storage application, while the wood grain laminate shelves make it attractive for the front office.

Everything you need shipped in one box.