Record Archive Storage Racks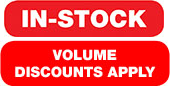 FOB - Midwest Warehouse
Model Numbers in Red are IN STOCK and feature Quick Ship!
Quick Ship Colors: Sand and Medium Grey

Designed to hold record storage boxes for archival purpose.
Features:
May be ordered with or without particle board decking to allow you to use your own shelf surface
Incorporates high performance steel shelves which allow holding even the heaviest load capacities
Boxes are not included.
Available Colors: Sand, Medium Grey, Light Grey, Putty, and Black
If you need a large quantity of this product, call us at 1-800-338-1382 for additional bulk discounts!