Q-Line Shelving Components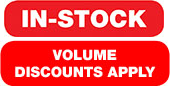 FOB - Midwest Warehouse
Model Numbers in Red are IN STOCK and feature Quick Ship!
Quick Ship Color: Medium Grey
Tennsco Q-Line Shelving Components
will help you create your own custom shelving system to fit your specific requirements. It's simple: Start with posts selecting the one that best fits your height and weight requirements. Next, select a shelf , again considering shelf loads, and finally add end panels or doors for that finishing touch.
Q-Line Shelving Component Features
This Q Line Shelving is designed for those storage applications that demand strength and versatility. Q Line's exclusive Box Beam construction and heavy reinforced steel shelves deliver increased load bearing capacity for your heaviest storage needs. Designed to handle up to
750-lbs.
Other Features
Tennsco Q Line shelves use a structural box formation on the front and rear flanges. The face of the box is ribbed and the flange is welded every three inches. The shelf ends have three bends (competing shelves use only two) for added front to back strength. The net result is the strongest shelf in its class, with a load capacity up to 750-lbs!
Tennsco compression clips make adding shelving a snap. Just clip on, its so easy. No bolts or tools are required.
Tennsco Q Line shelving is available in popular standard configurations. Ships class 70.
Available Colors: Sand, Medium Grey, and Light Grey