Ledge Unit - with 3 Openings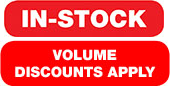 FOB - Midwest Warehouse

Model numbers in Red are IN STOCK and feature Quick Ship!
Quick Ship Color: Medium Grey

Ledge Units attach to Q-Line Shelving to add 12" of additional shelf depth to the three lower shelves and a handy work surface for the fourth shelf.

Features:
Measures 36"W x 12"D x 39"H.
Secure storage of valuable items add a ledge unit door, which provides two hinged doors and a three-point locking system.

Available Colors: Sand, Medium Grey, and Light Grey

Ordering optional hinged door for unit adds 1-1/4" door frame depth and 1/2" handle depth. Hinged door for the ledge unit comes standard with one recessed handle.