Imperial Shelving Systems - Double Entry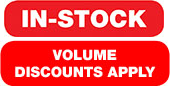 FOB Midwest Warehouse
QuickShip Color: Sand
Usually ships in 2-3 days

Imperial Shelving is the ideal solution for all your filing needs - especially in the office. Its unique space saving design saves up to 60% floor space when compared to conventional filing equipment.
Double entry units include 10 dividers and one center stop per level.

NOTE: Double entry units are shipping in two cartons.
All units have closed upright panels. Plastic feet included to protect carpet. No special tools required for assembly.