Fixed Shelf Lateral Files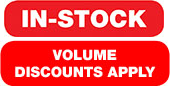 FOB Midwest Warehouse

Model numbers in Red are IN STOCK and feature QuickShip!
QuickShip Colors: Black, Light Grey, Champagne/Putty, and Sand

Tennsco's Fixed Shelf Lateral Files are available with or without doors. Open Units are perfect for color-coded filing systems, books, manuals etc. Use Closed Units when confidentiality, security or protection of materials is of paramount concern. Closed Units have individual retractable doors for each shelf level.