ESP Shelving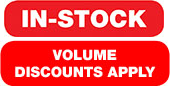 FOB Midwest Warehouse
Models numbers in Red feature QuickShip!
QuickShip Color: Medium Grey

These multipurpose ESP Shelving units are ideal for storage applications in office stockrooms and throughout your plant. Everything you need shipped in one box.

Flanged for Extra Support: ESP Shelves use multiple-bend flanges with lapped and welded corners. The design permits loads up to 250 lbs. per shelf.