Bulk Storage Racks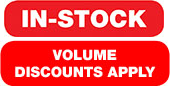 FOB - Midwest Warehouse

Model numbers in Red are IN STOCK and feature Quick Ship!
Quick Ship Color: Medium Grey

The ideal solution for those storage applications that involve oversized and heavy products. Beams quickly connect to uprights with special tapered finger connectors and deck supports that drop into beam slots to create a strong and rigid framework. Each upright assembly is designed to handle loads up to 17,000 lbs. (based on 24" centers) and is available up to 16 feet in height. Choose from corrugated steel, particle board or wire decking.

Available Colors: Sand, Medium Grey, and Light Grey

NOTE: Quantities less than 50 uprights on the following model numbers please add $250 list set-up charge:
BUF-24144
BUF-36144
BUF-48144
BUF-24168
BUF-36168
BUF-48168
BUF-24192
BUF-36192
BUF-48192
If you need a large quantity of this product, call us at 1-800-338-1382 for additional bulk discounts!