All-Purpose Workbenches - 1-3/4 Inch Maple Top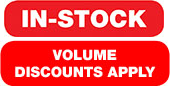 FOB: Midwest Warehouse
Workbench Color: Gray

These Tennsco workbenches (with 1-3/4" Maple Top) are constructed of only the finest materials and represent the hallmark of strength and durability. 13-14 gauge steel legs and 14 gauge steel stringer. Legs are adjustable. Ships knocked down to save on freight.

1-3/4" Maple Top
Varnique wear-resistant finish. Square edge.