Add-A-Stack Shelving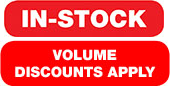 FOB Midwest Warehouse

Model numbers in Red are In Stock and available for QuickShip!
QuickStock Colors: Light Grey and Sand

Tennsco Add-A-Stack's thin profile reduces the height of each tier, allowing you to stack more tiers within reaching height. Add-A-Stack has been proven to cost less per filing inch than conventional filing cabinets ... and has exceptional strength to carry heavy filing loads safely. With no time-consuming drawers to open and close, retrieval time is greatly reduced as well.