16 Person Lockers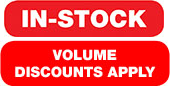 FOB - East Coast Warehouse

Model Numbers in Red are IN STOCK and available for Quick Ship!
Quick Ship Color: Sand and Medium Grey

Get all the benefits of economical box lockers plus the advantage of hanging space for full length garments! This efficient design can accommodate sixteen people per unit – an ideal alternative when full length storage and tight space are primary considerations.

Features:
16 openings, 12" wide x 12" high x 18" deep
Rugged padlock hasps
Available with or without legs
Louvers for ventilation
Available assembled or unassembled
Coat rod included
Optional built-in locks
Quickship colors: Sand and Medium Grey

Note: For safety, lockers are required to be floor or wall anchored.

Available Colors: Sand, Medium Grey, Light Grey, Putty and Black
If you need a large quantity of this product, call us at 1-800-338-1382 for additional bulk discounts!